Car 164 was built by the J.G. Brill Company in 1927 for the Philadelphia and Western Railway(P&W) as car number 64. It was part of a group of 11 cars built between 1924 and 1929 to both supplement, and replace the older wooden interurbans (like car 46 of our collection). The cars originally featured smoking compartments, parcel racks, and train doors for easier passage between trains of more than one car. They also had trolley poles, and vestibule steps for street loading in Norristown, PA. An Electric Railway Journal article provides additional information of initial sample car #160, which was slightly different than the remaining production.
Shortly after the last purchase the P&W, under new management, embarked on a modernization program that involved the purchase of the Bullet type cars (like car 206 of our collection) to provide high-speed service to Norristown. The company faced a dilemma in that the 60 series cars, the last 5 of which were a mere 2 years old, really did not fit in the modernization plans. The cars were slow, with a top speed of only 45 miles per hour. They were clearly not suited to the high-speed operation planned for the future of the P&W.
The P&W began a substantial rebuilding program in preference to scrapping these 11 nearly new cars. The train doors were removed, as well as the center doors - made redundant by the creation of one compartment through removal of the division between the smoking and non-smoking sections, thus permitting one-man operation. Terminal changes at Norristown eliminating street loading made possible the removal of trolley poles and ground level steps and traps. Most importantly, the motors were rewound, which, along with changes in the trucks and suspension, increased their maximum speed to 70 miles per hour. As the cars were rebuilt, they were renumbered into the 160 series, with our car becoming 164. The rebuilt cars held down all base service assignments on the Strafford branch as well as Bryn Mawr, Villanova, and Wynnewood Road local services. because of this they were commonly referred to as "Strafford Cars".
Car 164 - Andrew W. Maginnis collection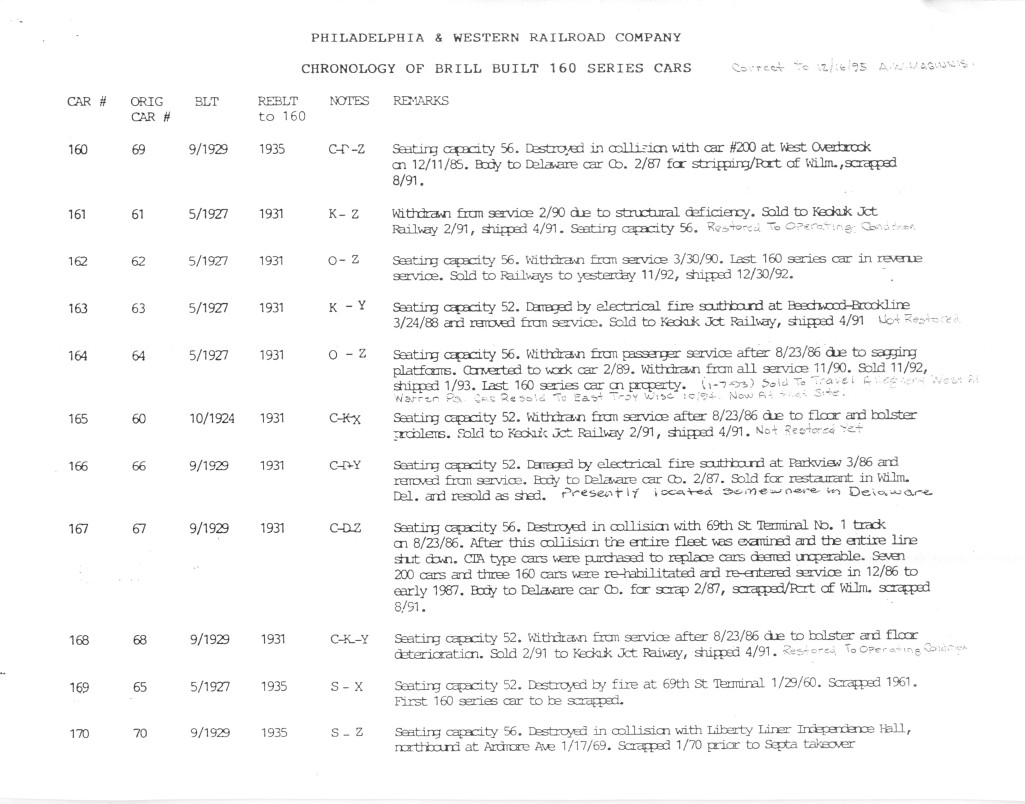 160 Car Chronology

P&W Car Disposition
| | | | |
| --- | --- | --- | --- |
| Car Number | Original Number | Built | Disposition |
| 160 | 69 | 9/1929 | Collided w/derailed 200 at W. Overbrook on 12/11/1985 - Scrapped |
| 161 | 61 | 5/1927 | Sold to Keokuk 2/91, to NYMT 1999 |
| 162 | 62 | 5/1927 | Last operating 160 series (3/30/1990) - to RTY 11/1992 |
| 163 | 63 | 5/1927 | To Keokuk 2/1991, to Mt. Dora FL as Edwards Motor Car M-200 |
| 164 | 64 | 5/1927 | Work service 8/1986, Sold to Travel Allegheny, Warren, PA - to East Troy 11/1992 - to ECTMA 2009 |
| 165 | 60 | 1924 | Out of service 8/1986, to Keokuk 2/1991, Converted to propane and sold to El Reno, OK 2001 |
| 166 | 66 | 9/1929 | Sold 2/1987 to restaurant in Wilmington DE - Since moved to farm on Eastern Shore |
| 167 | 67 | 9/1929 | Scrapped after wreck at 69th Street - 8/23/1986 |
| 168 | 68 | &nbsp | Now at NYMT |
| 169 | 65 | 5/1927 | Destroyed by heater fire - 1/29/1960 |
| 170 | 70 | 9/1929 | Destroyed 1/17/1969 - rear end collision with Electroliner |
| 200 | -- | 1931 | Destroyed derailment/collision 12/11/1985 |
| 201 | -- | 1931 | Damaged collision with 204 - 12/1985, Scrapped 8/1991 |
| 202 | -- | 1931 | Sold to Warren PA after collision, to Penns Landing - Scrapped 2001 |
| 203 | -- | 1931 | Sold to Seashore Trolley Museum |
| 204 | -- | 1931 | Collision damage, to St Louis Museum of Trans. |
| 205 | -- | 1931 | To RTY - Operable with Trolley poles |
| 206 | -- | 1931 | Last car on property - Used as pickle car - Now at Electric City Museum, Scranton PA |
| 207 | -- | 1931 | Sold to Seashore Trolley Museum |
| 208 | -- | 1931 | Sold to Seashore Trolley Museum |
| 209 | -- | 1931 | Sold to Pennsylvania Trolley Museum - 11/1992 |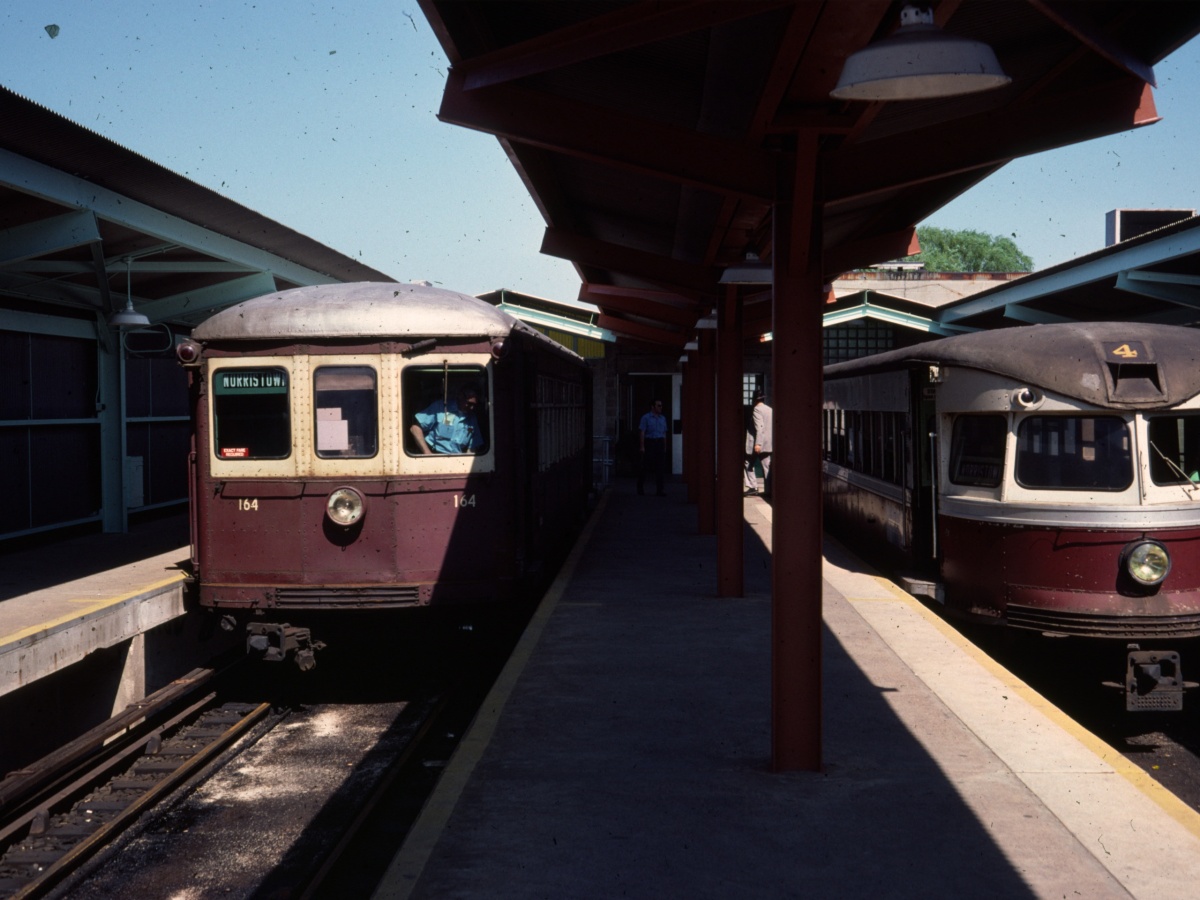 Car 164 at 69th Street Terminal, June, 1978 - John F. Tucker III photo, Chris Jagodzinski collection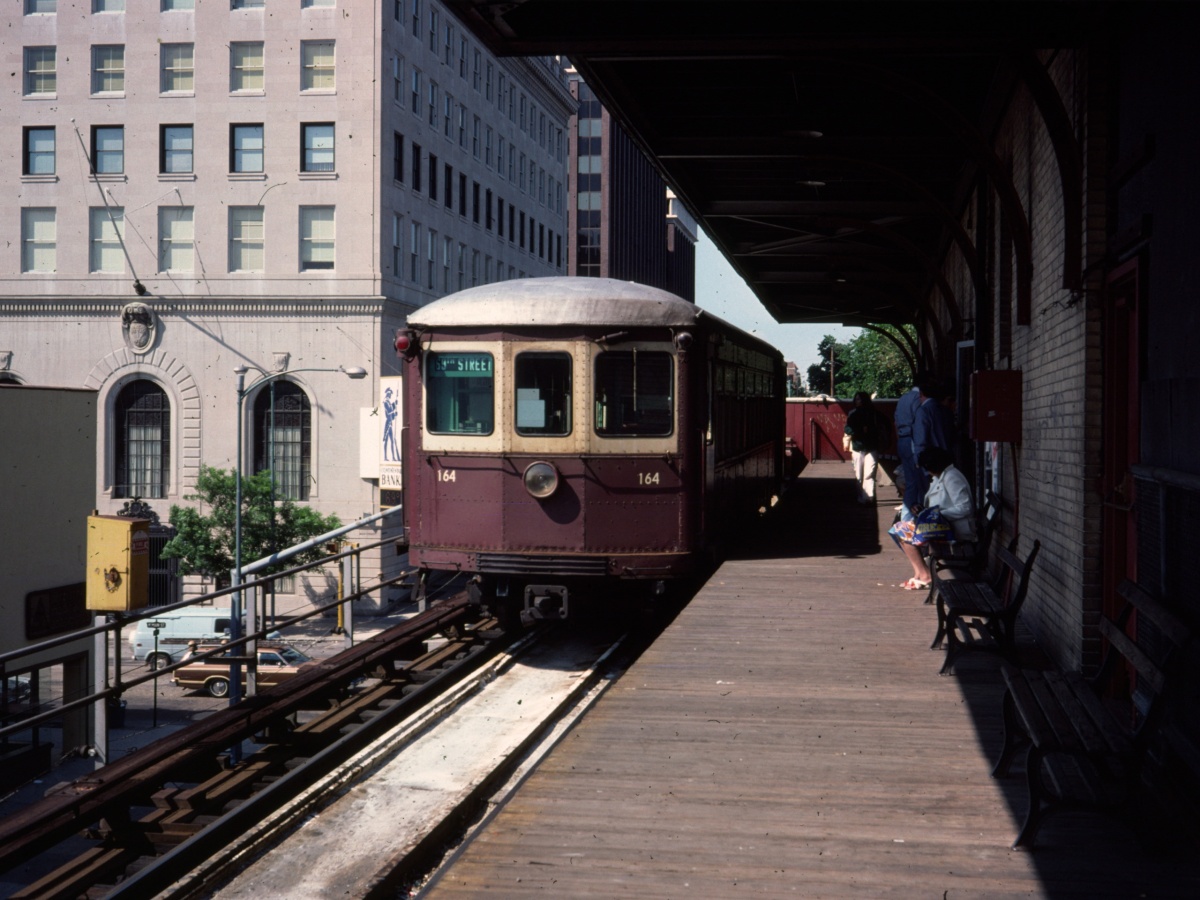 Car 164 at Swede & Main Street Norristown P&W Terminal, June, 1978 - John F. Tucker III photo, Chris Jagodzinski collection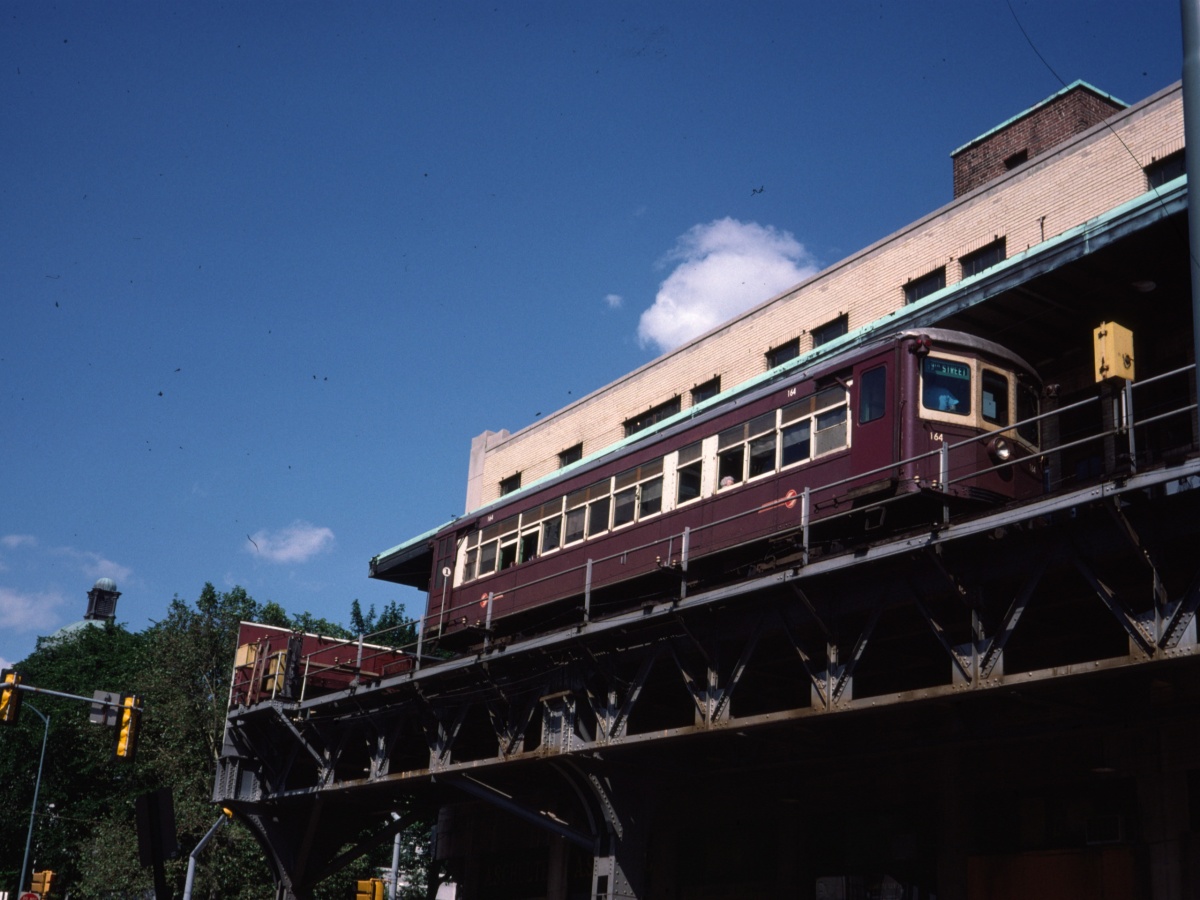 Car 164 at Swede & Main Street Norristown P&W Terminal, June, 1978 - John F. Tucker III photo, Chris Jagodzinski collection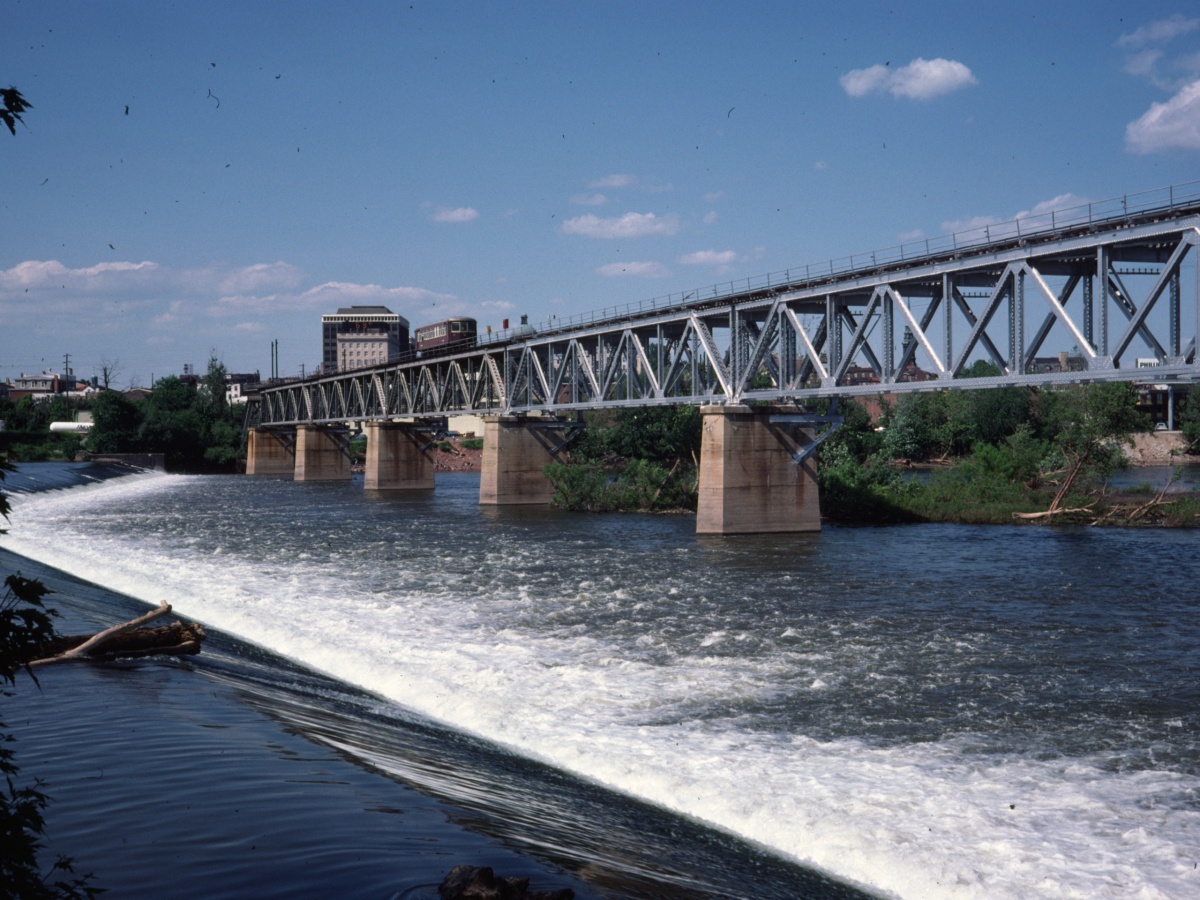 Car 164 on Schuylkill River Bridge between Norristown and Bridgeport, June, 1978 - John F. Tucker III photo, Chris Jagodzinski collection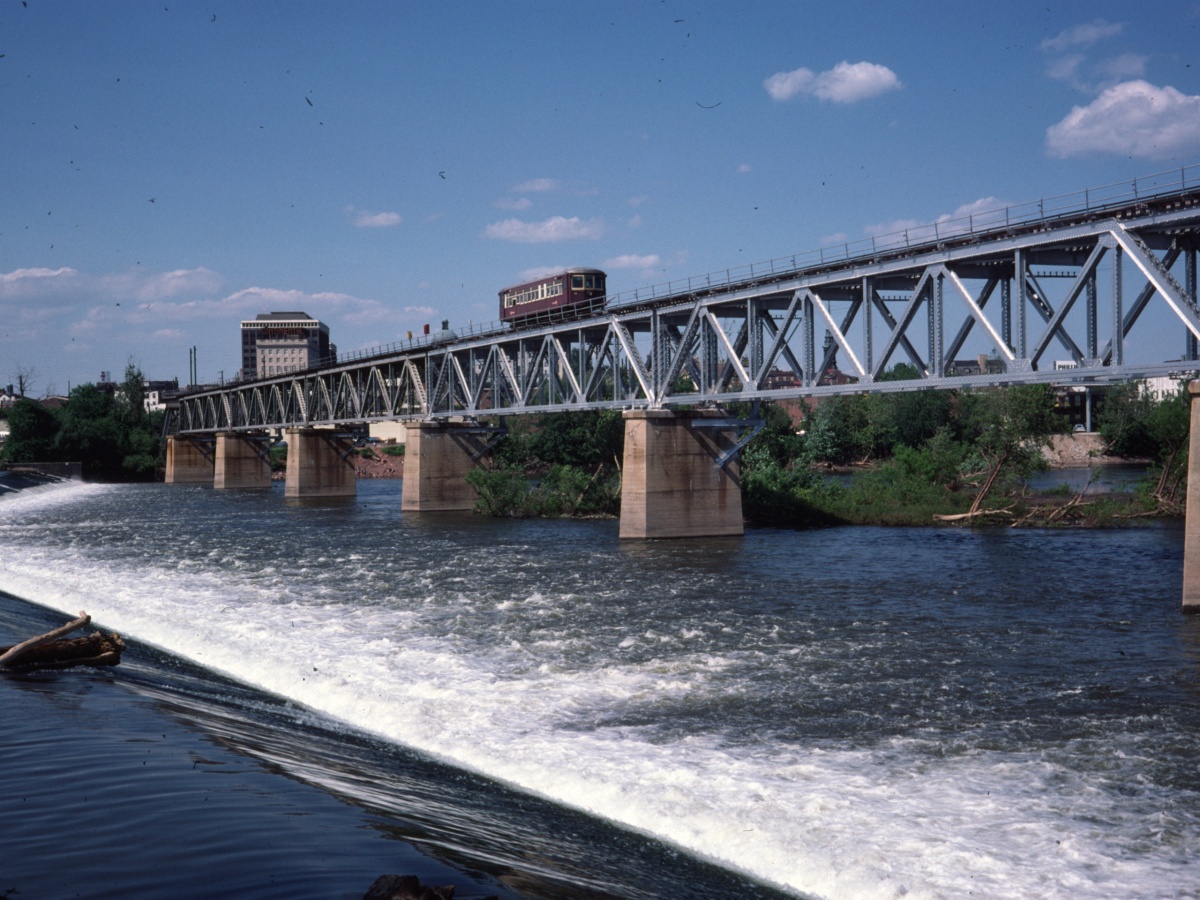 Car 164 on Schuylkill River Bridge between Norristown and Bridgeport, June, 1978 - John F. Tucker III photo, Chris Jagodzinski collection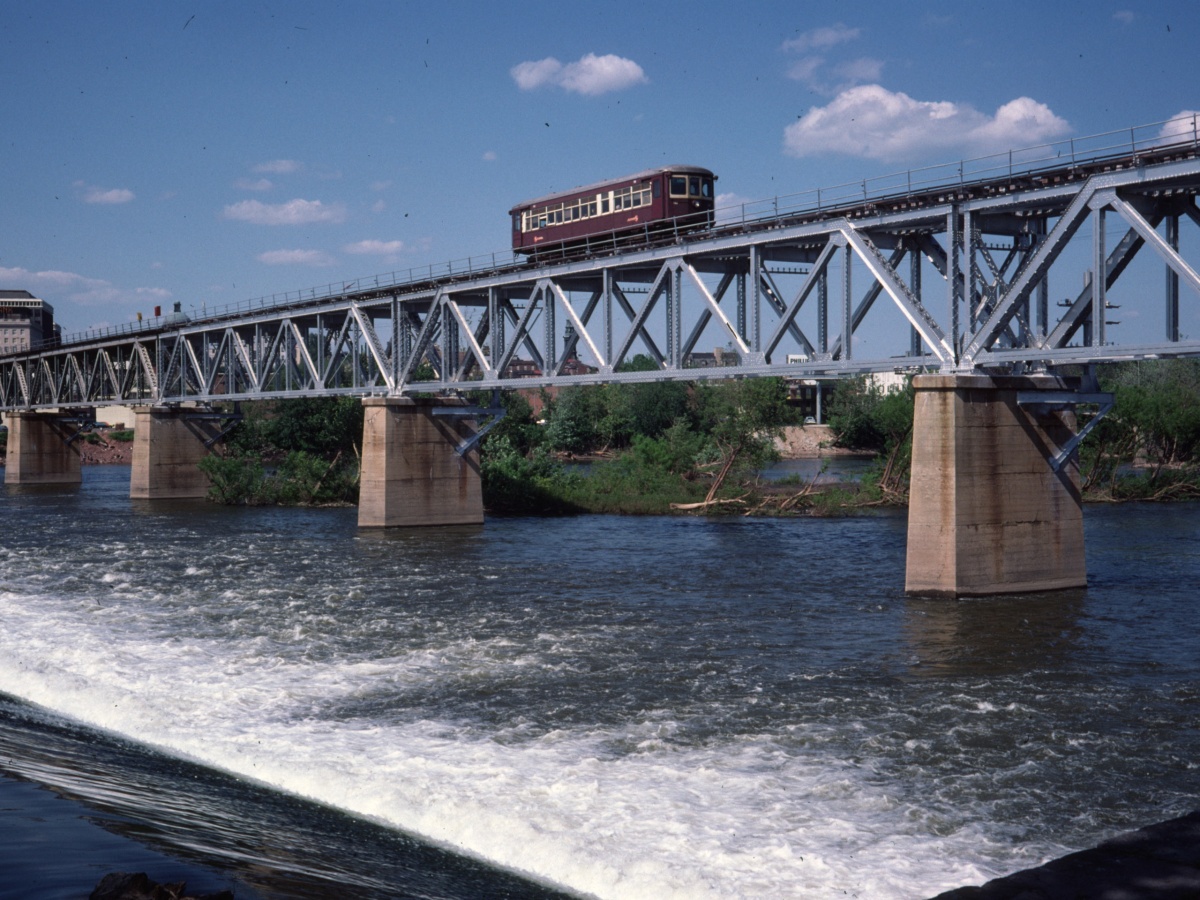 Car 164 on Schuylkill River Bridge between Norristown and Bridgeport, June, 1978 - John F. Tucker III photo, Chris Jagodzinski collection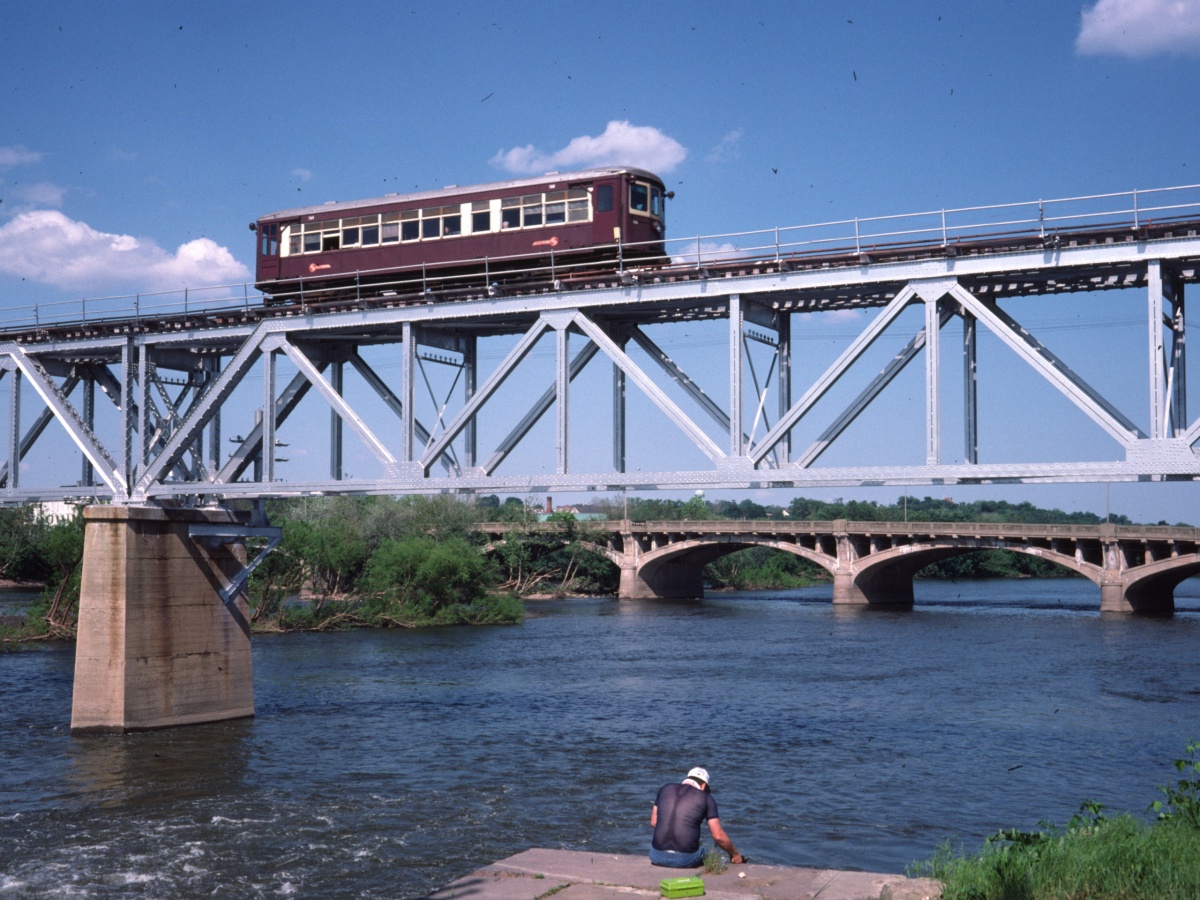 Car 164 on Schuylkill River Bridge between Norristown and Bridgeport, June, 1978 - John F. Tucker III photo, Chris Jagodzinski collection