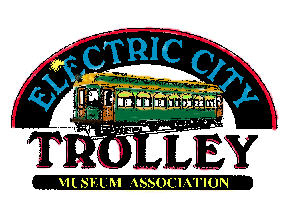 Welcome to www.ectma.org, the web site of
The Electric City Trolley Museum Association
A Non-Profit Educational Corporation
The Electric City Trolley Museum Association is a volunteer non-profit group that supports the activities of the Electric City Trolley Museum in downtown Scranton, Pennsylvania, USA, at the Steamtown National Historic Site. The association is an outgrowth of predecessor preservation groups including Buckingham Valley Trolley Association and East Penn Valley Traction, which conveyed to the museum most of the trolleys and artifacts in its historic collection. Association members support the Electric City Trolley Museum with their time, talent, trolley expertise and contributions. The Electric City Trolley Museum Association is IRS recognized as a 501(c)(3) registered non-profit organization, and donations are tax-deductible to the extent permitted by law. We welcome anyone sharing our interest in electric railways of eastern Pennsylvania to find out more about the Electric City Trolley Museum Association through this web site, and to consider joining or supporting our activities by becoming a member.
---
The 2015 trolley excursion season will start April 30th 2015 with trips scheduled at 10:30 AM, 12:00 Noon, 1:30 PM and 3:00 PM, Thursday through Sunday.
Note: The Noon departure is changed to 12:15 PM and the last departure is changed from 3:00 PM to 2:30 PM on Sundays when Baseball excursions are scheduled.
---
Please go the Museum Page for additional information about visiting the Museum and the Trolley Excursion Ride ticket sales and boarding area.
Trolley Excursions are also scheduled Memorial Day, Monday May 25th, 2015, Independence Day, Saturday July 4th, 2015; Labor Day, Monday September 7th, 2015 and Columbus Day, Monday October 12th, 2015.
---
---
Steamtown National Historic Site will celebrate Labor Day weekend with Railfest 2015.
Saturday, September 5 and Sunday, September 6, 2015.
Visiting equipment displays, special shop demonstrations and, of course,train rides.
Special Event Opening Ceremony September 5, 10:00 am.
---
Toys for Tots excursions in 2015 will be Friday Nov 27th & Saturday Nov 28th and Santa on the Trolley for 2015 will be Sunday Nov 29th, Saturday Dec 5th, Sunday Dec 6th, Saturday Dec 12th, Sunday Dec 13th, Saturday Dec 19th and Sunday Dec 20th.
Accompany Santa Claus for a ride on the Trolley. Reservations are required. Please call the museum at 570 963-6590 for further information, reservations and to confirm the 2015 holiday trolley schedule.
---

For the 2015 Season the trolley will run to the following Scranton/Wilkes-Barre RailRiders games at PNC field:
Sunday, May 24th - Durham Bulls
Sunday, May 31st - Norfolk Tides
Sunday, June 14th - Rochester Red Wings
Sunday, June 28th - Buffalo Bisons
Sunday, July 5th - Buffalo Bisons
Sunday, July 26th - Toledo Mud Hens
Sunday, August 2nd - Columbus Clippers
Sunday, August 23rd - Rochester Red Wings
All Game Times are 1:05 PM and the Trolley Departs 12:15 PM at Steamtown Platform.
Excursion price is $20.00 per person and includes the following:
A trolley ride to the Stadium boarding in downtown Scranton at the Steamtown Platform.
Baseball admission ticket.
$2.00 Voucher for Concession Stand or Team Store.
Return trolley ride to downtown Scranton.
(Trolley Ride Only to & from Game is $11.00)
All ticket sales are through the museum. Please call the Museum at (570) 963-6590 for further information and the necessary reservations.
---
---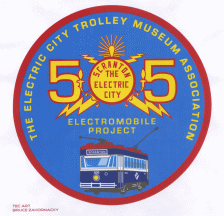 Project 505
Project 505 is a project being promoted by the Electric City Trolley Museum Association and several Greater Scranton Civic leaders to bring back a part of Scranton's transit history by restoring to service a classic 1929 Electromobile streetcar.
Click here for information about Car #505 and how to donate to Project 505
---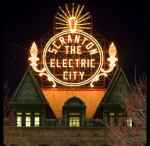 Scranton - The Electric City
On November 29, 1886, Charles J. Van Depoele was at the controller of Car #4 and made the first "test run" of the new electric streetcar. He only operated the car to Spruce and Adams Avenue and returned to Franklin Avenue at Lackawanna Avenue. When he was operating the second test run, there was a short circuit problem in the motor and that was the end of operation that day. The next day, November 30, 1886 was the day the first electric streetcar operated from the corner of Lackawanna Avenue on Franklin Avenue to the Green Ridge section of Scranton. The year, 2011 marked the 125th year since that "first run". To commemorate that historic event, the City of Scranton along with the Electric City Trolley Museum Association co­operated with several events in 2011. Please check www.ectma.org/125th and the City of Scranton web site www.scrantonpa.gov for further information.




---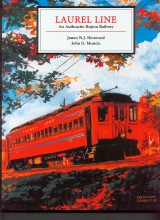 Laurel Line - An Anthracite Region Railway by James N.J. Henwood and John G. Muncie -published by Tribute Books-214pp.
New Second Edition with improved photo reproduction. Based on the survival of the Laurel Line's corporate records, authors Henwood and Muncie make the most out of this historical treasure. In the book, the railway emerges in human terms of strife, struggle, victory and defeat. The reader learns not only what happened, but why, and who made it happen. All railroads and interurban railways are interesting if properly researched - the Laurel Line as portrayed in this work is profoundly interesting. Many classic photographs from Edward S. Miller and other rail photographers illustrate the story. Reproductions of maps, car plans and other memorabilia are also presented.

Softcover $39.95
To order call the Museum at (570) 963-6590.
---
Send questions and comments to the Webmaster
Updated 8/21/2015. Copyright © 2000-2015 - Electric City Trolley Museum Association. All rights reserved.