5205 - Historic Background
Car 5205 was ordered in 1923 by the Philadelphia Rapid Transit Company (PRT) as one of 135 double-end passenger cars, 385 single-end passenger cars and a sizable fleet of utility cars, including cranes, plows, sweepers and other miscellaneous types from the J G Brill Company, also of Philadelphia. This order represented the largest single order for surface passenger equipment ever let at one time and kept the Brill plant busy for most of the year. Furthermore, the Brill Company was regarded at the time as being one of the largest producers of electric vehicles in the world. The 135 1923 double-end cars were numbered 5200 through 5334 and were commonly referred to as 5200s (fifty-two hundreds). Car 5205 was originally delivered to PRT in August 1923 as car number 5287, but was renumbered following rebuilding for one-man operation. The 385 single-end cars, which had identical mechanical equipment were numbered 8000 through 8384 and were commonly referred along with additional orders of 150 cars as 8000s (eighty-hundreds).
The 5200s were an update to the 1918-1919 No. 4000-4129 Suburban-PC and No. 5000-5109 Suburban-K Hog Island cars, which were themselves a double-end version of the 1911-1913 Near-Side cars. However, while the Hog Island cars were designed as a heavier more powerful four-motored car for suburban and high-density operations with longitudinal seating for maximum passenger capacity with standees and the capability of hauling a trailer and, in the case of the 4000s, operating as a two car Multiple Unit (MU) train, the 5200s were equipped, like the Near-Side cars, with only two motors for lightweight economical operation.
All of the 5200s were equipped with Brill 39E2 trucks, two General Electric (GE) #275 motors and GE K68 controllers. The Brill 39E2 trucks, like the Brill 39E trucks on the 1911-1913 Near-Side cars, have one powered axle equipped with a large diameter wheel and an idler axle with a smaller diameter wheel on each truck. The truck bolster is offset towards the powered axle. This "maximum traction" arrangement was an attempt to transfer as much of the car weight as possible to the powered axle. Because of the more modern #275 motors on the 5200s the wheels on the powered axle were 28" in diameter, as compared to the 33" diameter of the corresponding wheels of the Near-Side car, thus providing a slightly lower interior floor height. The idler axle had a 22" wheel on both car series.
The 5200 group incorporated many advances in design and construction over the older cars used in Philadelphia. Differences from the older type cars are a greater use of lightweight steel construction as an alternative to the composite steel and wood or all wood framing construction and the installation of the route destination sign above the center window which allowed larger signs to be used instead of under the route-number sign at the right front window as was the case with the Nearside and Hog Island cars.
As with all Philadelphia streetcars, the Brill 39E2 trucks were built to a wide gauge of 5 feet, 2-1/4 inches. This wide gauge of 5 feet, 2-1/4 or 5 feet, 2-1/2 inches between the running rails is often referred to as Pennsylvania Broad Gauge because of its extensive use in most Pennsylvania cities. Exceptions such as Scranton and Allentown used standard railroad gauge of 4 feet, 8-1/2 inches, however.
All of the 5200s were equipped with double folding doors on each side, both front and rear, with all doors opening out and pneumatically controlled. The seating arrangement used ten cross seats, arranged in sets of five on each side and staggered so that each group of five cross seats was placed opposite to a longitudinal seat running half the length of the car, an arrangement developed by Charles Kruger, the president of PRT in 1910. Classified as A-17 by PRT, the 5200s were originally equipped to be operated with two men and initially placed in service on Routes 33 (Arch-19th-20th-Hunting Park), 61 (Ridge Ave-Manayunk) and 70 (52nd St.-Bala), all relatively long high-capacity lines. Also, to indicate that they were rear entrance, they were delivered painted orange and ivory-cream rather than the more common green used for front entrance cars.
In 1926 the cars from Route 70 were withdrawn and assigned to the suburban Routes 22 (Willow Grove-Doylestown) and 74 (Willow Grove-Hatboro). Also in 1926, 50 cars were shopped, a few at a time, and rebuilt with safety type control equipment for one-man operation. The cars converted to one-man were randomly selected and numbered throughout the series. The PRT management decided that it wanted all of the one-man cars consecutively numbered. It therefore swapped numbers between converted cars numbered below 5285 and those not converted numbered above 5285. Following this renumbering, cars 5285 to 5334 were classified as A-28 double-end 1923 one-man by PRT. In addition, the cross seats were changed to longitudinal to improve passenger circulation now that the cars were operated as front entrance and exit. Additional cars were converted to one man in 1927 and 1929. The change to all longitudinal seats was not popular and most of the cars were changed back to the original arrangement in 1928.
In 1940, the PRT, which was in receivership, was reorganized as the Philadelphia Transportation Company (PTC). A general program of rehabilitation was undertaken. Older cars were starting to be retired with the delivery of new streamlined PCC cars, trackless trolleys and motor buses. The remaining 668 (8000s and 5200s) cars that were ordered in 1923 to 1926 were targeted for modernization. The modernization program included equipping the cars with:
Herringbone gears and pinions for quieter operation.
New braking equipment.
Comfortable leather upholstery over the old wood slat seats.
New rubber floors.
Improved lighting using similar fixtures to the new PCC cars.
Bars to replace the old screen-type window guards to improve the exterior appearance.
New aluminum stanchions and grab rails.
Chrome-plated seat grab handles.
New headlights.
The management applied a new paint scheme using a brighter shade of green than was common to PRT cars and inspired by the PCC cars, added a set of wings around the headlights of the 5200s, although not as flamboyant as the stylized wings added to the 8000s, and christened the cars "Paintliners" for publicity purposes. The paint scheme also featured a silver roof and letterboard area, an ivory-cream window area and thin bright red stripes to accent the color changes above and below the window lines. The Traction Heritage reprint of a 1940 Transit Journal article by R. F. Tyson, Vice President, Operation, Philadelphia Transportation Company provides additional information.

In 1941, sixteen of the 5200s, eleven being Class A-28 and five being Class A-17 cars, including 5205, were completely rebuilt as part of this modernization program, reassigned to Class A-41 and assigned to Route 52 (Chelten-Midvale-East Falls). World War II halted the program when, in desperate need for more cars, the PTC shops began restoring to service old Hog Island and Near-Side cars that were in storage. The program was never resumed after the war ended.

The modernized 5200s were assigned to the Germantown Depot and used on the Chelten-Midvale Ave. line serving the East Falls section that was home to many prominent Philadelphians including the Kelly family (Princess Grace of Monaco) until it was converted to bus operation on January 29th, 1956. They were then transferred to West Philadelphia for use on Route 46 (60th St.) the last double end line, which was converted on August 11, 1957. In later years the "Paintliner" color scheme was simplified to a gray roof, with the letterboard and window area the ivory-cream and a medium bus green below the belt rail.

This photograph of car 5205 by Joseph M. Mannix on Chelten Avenue near the York Road end of Route 52 in Philadelphia shows a modernized 5205 with the simplified Philadelphia Transportation Company (PTC) paint scheme.
During the conversion period of the mid-1950s, Albert G. Roth, principal of the preservation group Delaware Valley Short Line arranged to paint Car 5205 in a striking, somewhat garish, orange livery and used the car on numerous charter trips throughout the PTC system. After conventional car operation ended in Philadelphia the car was moved to the Delaware Valley Short Line location in Tansboro, New Jersey. Trolley Valhalla, a predecessor of ECTMA predecessor Buckingham Valley Trolley Association (BVTA) repainted 5205 in a more appropriate orange and ivory-cream in 1969 and operated 5205 on its demonstration line in Tansboro, New Jersey in the early 1970s. In the mid-1970s, when BVTA purchased many of Trolley Valhalla's assets, 5205 was moved to Buckingham Valley, Pennsylvania and some cosmetic restoration was undertaken. At this time it was concluded that due to the extensive interior modifications of 1941, a restoration to the modernized green would be more appropriate. With the move to Penn's Landing in 1982, a major re-gauging to operate on standard gauge railroad track was undertaken in the mid-1980s. Several test runs were made, verifying the success of the re-gauging, until a problem was identified with one motor. Due to the loss of work facilities, no further work was done to identify the motor problem and subsequent outdoor storage caused significant car body deterioration.
For display and operation at the Electric City Museum, the mid-1950s simplified color scheme has been selected for 5205. This display will illustrate how a utilitarian, 1920s streetcar was updated by a transit operator to present a more attractive appearance to the public. To provide a contrast, Electric City Museum plans to continue the backdating on similar car No. 8534 in its collection to its original 1926 PRT appearance. The other 5200 that has been preserved, No. 5326 at the Pennsylvania Trolley Museum, Washington, Pennsylvania has been somewhat backdated to its original 1923 PRT appearance.
In February of 2007, 5205 was moved from the Museum building in downtown Scranton to Lackawanna County's new Trolley Works restoration shop adjacent to PNC Field in Moosic. County carpenters Rich Foley and Mike Drumstra have received a PennDOT grant to complete an estimated 18 month restoration that will result in 5205 being the third operational car available for the excursion ride.
References:
Surface Cars of Philadelphia 1911-1965, Harold E. Cox, Forty Fort, Pennsylvania
BVTA Newsletter, May 1984, Article by Joseph M. Mannix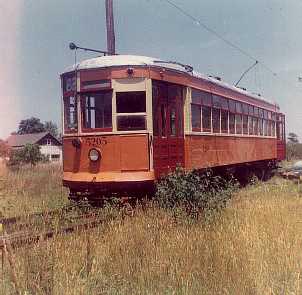 This photograph of car 5205 was taken by Alan Trachtenberg at the Tansboro, New Jersey location in 1968 after the exterior of the car was repainted in the original Philadelphia Rapid Transit (PRT) colors.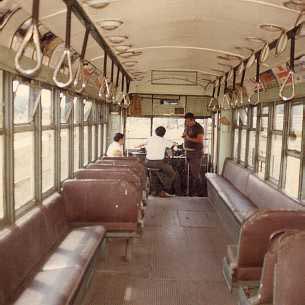 This photograph of 5205 was taken by Alan Trachtenberg at the Tansboro, New Jersey location in 1970 and shows the interior as modernized by PTC in the 1940's.

Car 5205 has been regauged for operation on standard gauge track and as is shown in these images by Michael Trosino, initial restoration was started several years ago at the Electric City Trolley Museum by staff carpenters Jeff Coliani & Rich Foley.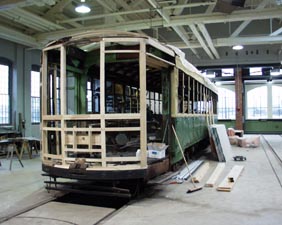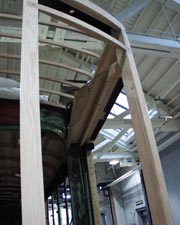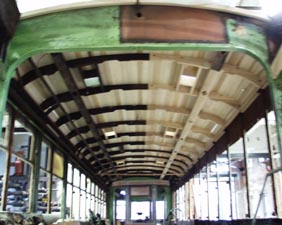 These images from February 2007 by David Noyes show 5205 being moved to the new Trolley Works restoration shop in preparation for a complete operational restoration funded by a PennDOT grant.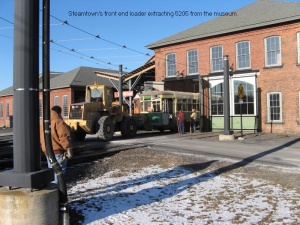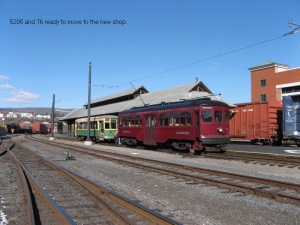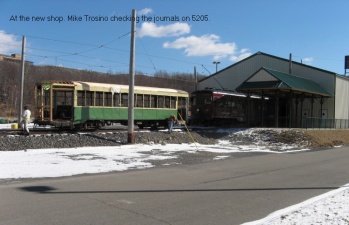 5205 will be restored as a modernized car with the simplified Philadelphia Transportation Company green and cream paint scheme.